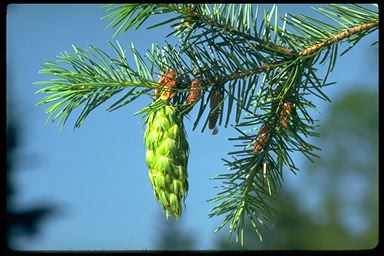 Douglas fir cone photo by Buck Buckingham from Trees of The Dungeness
My interactive program,Trees of the Dungeness, (released in early 1997) is still available for downloading in the Windows version. The program was originally produced on a Mac, but I have not imported it to OS X. The program contains 41 color photos of all the tree species native to the Dungeness watershed. Information on identifying characteristics, ecological functions, as well as traditional and current economic uses of the trees is also included. The Dungeness River is located in the northeast corner of Washington State's Olympic Peninsula. Trees native to the Dungeness watershed are (with a few notable exceptions) the same as those native to most of western Washington. The exceptions are due largely to the fact that much of the watershed is located within the rain shadow of the Olympic Mountains. It is rewarding to know that this program is still being downloaded. Interestingly there has always been more interest in it elsewhere than there has been within the Dungeness watershed.
The program is free!
To download the Windows version (3.8 Mb) click here


I'd appreciate it if you'd email me to let me know you've downloaded a copy of the program--thanks!
Copyright © Steve Koehler, 1997—2010