Willow and Naturals List
Basket Swap 1999
This page displays pictures of baskets exchanged between members of a list devoted to the sharing of information about growing willow and gathering materials used in basketry. Members of the list live in Canada, the United States, Great Britain and Tasmania. For information on subscribing to the list, please email me. Pictures will continue to be added as they arrive.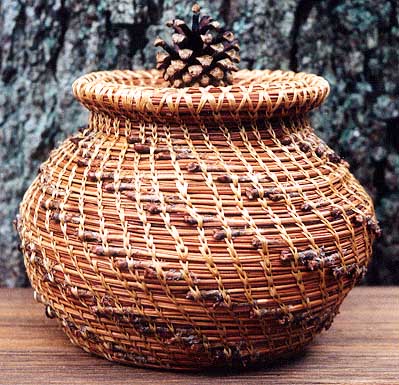 From the eye of the storm in North Carolina,
a pine needle and sinew basket by Pamela Zimmerman.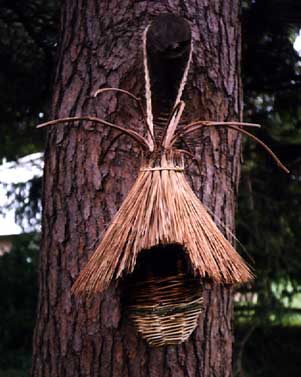 From Diana Macomber, Alexandria, VA, a wren house
of grapevine spokes, woven with brown and peeled willow.
Thatched roof is of loblolly pine needles and long needle pine needles.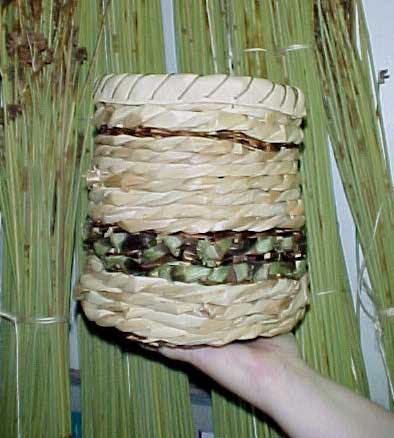 From Leslie Davidson in Port Angeles, WA, a leather rimmed basket
of bulrush spokes, woven with cattail and embellished with horsetail.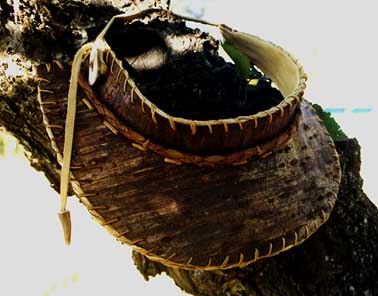 From Kathey Ervin in Sequim, WA, a visor of Bitter Cherry bark
stitched with cedar roots and embellished with a braid of cedar bark.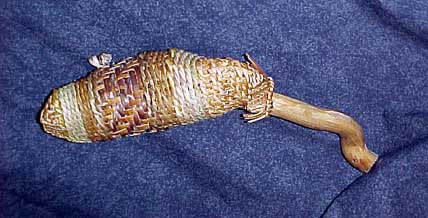 Also of Sequim, Sharle Osborne's rattle of cedar over a muscle shell
woven with yellow cedar, NW sweetgrass, woodwardia, dandelion stem and bitter cherry bark.